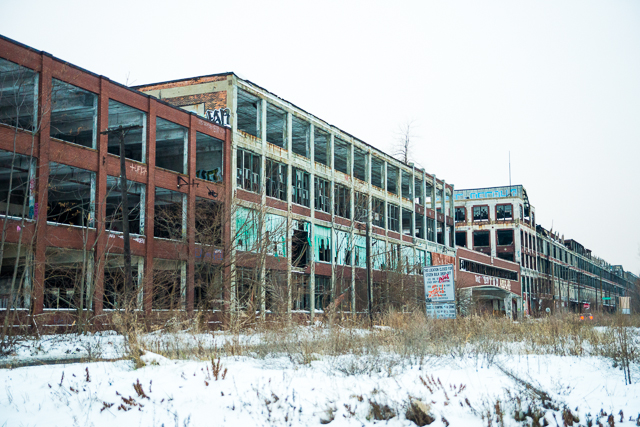 Packard Motor Car Company, Detroit, MI (December 31, 2012)
Welcome to Peninsula Vintage Auto Parts!
If you have specific part requests, please email and we will respond quickly. We stock a very large selection of ball, journal/cylindrical roller, tapered roller and thrust bearings, oil seals and hydraulic brake wheel and master cylinder repair kits.
We have many of the hard to find, Hyatt-type roller bearings and inner and outer races. Email your needs. Time and time again, our customers have told us we are THE EXPERTS in providing bearings for vintage vehicle applications.
We also offer many of the felt grease seals/washers commonly used on most 1930's and earlier vehicles. Ours aren't moth eaten!
Cork washers used on vintage vehicles are another specialty. Email your application to check availability.
Shipping world-wide is never a problem!

Most of our parts are manufactured by companies you have come to trust: BCA, Chicago Rawhide, Federal Mogul, Gates, Moog, National Seal, Raybestos, SKF, Spicer, Timken, and Wagner...just to name a few.

To assist our valued customers, we offer a free web page where they can list Vehicles For Sale, Parts for Sale or Parts Wanted. to check it out!
Featured Customer Projects
Simon's 1925 Willys-Knight Tourer from Great Britain
Simon's current project;
a 1925 Willys-Knight Roadster (Great Britain)
Simon's restoration is moving swiftly. He mounted the body of his 1925 Willy-Knight Roadster on the chassis. (GB)
Greg's 1939 Bantam Roadster (FL)
Check out Ragnar's very rare Columbia. One of only 14 surviving. Currently wrapping up work on the rear axle pinion and front headlight bar. (Sweden)
This is Barry's 1928 Studebaker FB State Victoria Coupe. Great looking restoration! (MN)
Don and Betty are posing with their 1926 Oldsmobile while at a car show. (Corpus Christi, TX)
Look what's Down Under! Here is Don's beautifully restored 1929 Oakland AA6 Roadster. (Australia)
Leif is behind the steering wheel in his 1939 Studebaker Champion Cabriolet. (Norway)
Bob just bought this 1931 Oakland Coupe after being in storage since 1980. It was the last car to come off the Oakland assembly line! Love those golf club compartments! (PA)
This is Curt's rare 1912 Velie five-passenger touring undergoing restoration. (CA)
Here is Werner's 1927 Chrysler, Model 52, four-door phaeton, which he purchased in South Africa 25 years ago. (Germany)
Check out Diljeet's beautifully restored 1930 Stutz phaeton; a true classic (India)
Steve is just about finished with the restoration of his 1929 Essex Challenger Six. (Iowa)
Rob is restoring this 1928 Willys-Knight 70A Tourer. Love those long hood lines or is it bonnet? (Australia)
This is Dean's beautifully restored 1935 Hupmobile Model D518. It is interesting to see the headlight mounting transitioned to the body. (Indiana)
Look at Bill's detailed restoration of his 1929 LaSalle. (Australia)
Peter is working on his 1920 Willys-Knight Model 20 Tourer (Slovakia)
Take a look at Jeff's 1929 Essex rumble seat coupe (New Hampshire)
Denis' 1936 Cord body-off restoration now in full progress after decades in storage (MA)
Meinrad's 1932 Packard Model 901, 5-Passenger Sedan before painting
...and after painting (Germany)
Per has the chassis restoration of his 1932 Reo 1B truck well underway. (Norway)
This is John's rare 1929 Alvis front wheel drive racer. (Australia)
This is Greg's beautifully restored Auburn 8/90. (Australia)
Here is Greg with his Auburn 851...a work in progress. I wish my garage looked like this! (Australia)
Greg is also working on this Auburn 652Y. I can really relate to this garage! (Australia)
Featured Products
1930-35 Buick Brake Shaft Cam Roller Bearing and Split Outer Race
1940-48 Diamond T Truck 808, 900, 900SD Clutch Release Throwout Bearing
1926-49 John Deere Model D PTO Bevel Gear Roller Bearing and Outer Race
1930-34 Ford Windwing Bracket Brass Thumb Screw (

Set of 4) Ford 350116-S13

$29.95
$39.95
$59.95
$9.95
1/8 Inch Square Flexible Braided Graphite Water Pump Packing (24 inch)
3/16 Inch Square Flexible Braided Graphite Water Pump Packing (24 inch)
1/4 Inch Square Flexible Braided Graphite Water Pump Packing (24 inch)
5/16 Inch Square Flexible Braided Graphite Water Pump Packing (24 inch)
$13.95
$15.95
$21.95
$25.95
1935-41 Packard Transmission Countershaft Bearing Roller Pins
(two bearing sets)
1947 Lincoln, 1949-50 Ford Rear Motor Mount; replaces 8L-6068-B or 8M-6068-B (NORS)
1928-32 Marmon Eight Cylinder
Front Wheel Felt Seal
Replaces Marmon Part No. M35742
Square Flexible Braided Graphite Water Pump Packing (24")
for
1923-29 Packard 126, 133, 226, 233, 326, 333, 426, 433, 526, 533 (6 Cyl)
1923-29 Packard 136, 143, 236, 243, 336, 343, 443, 640, 645 (8 Cyl)
$34.95
$39.95
$30.95 per pair
$17.95